Noahnm Alphabet & Number Puzzle Play & Exercise Flooring Mat for Children & Toddlers
Advantages:
A great tool for kids because the removable pieces allow your kids to develop gross motor skills, hand-eye coordination, logic, reasoning, and visual sensory growth.
Used to play areas in homes, schools, daycare, and many more places. The top of the mat is grooved with a non-skid bottom for ultimate safety and protection. An awesome mat for hard floors and soft heads!
Made of high-density EVA foam for the greatest durability and comfort. EVA foam is durable, premium foam that is lightweight and easy to assemble. It is also waterproof which makes it easy to clean.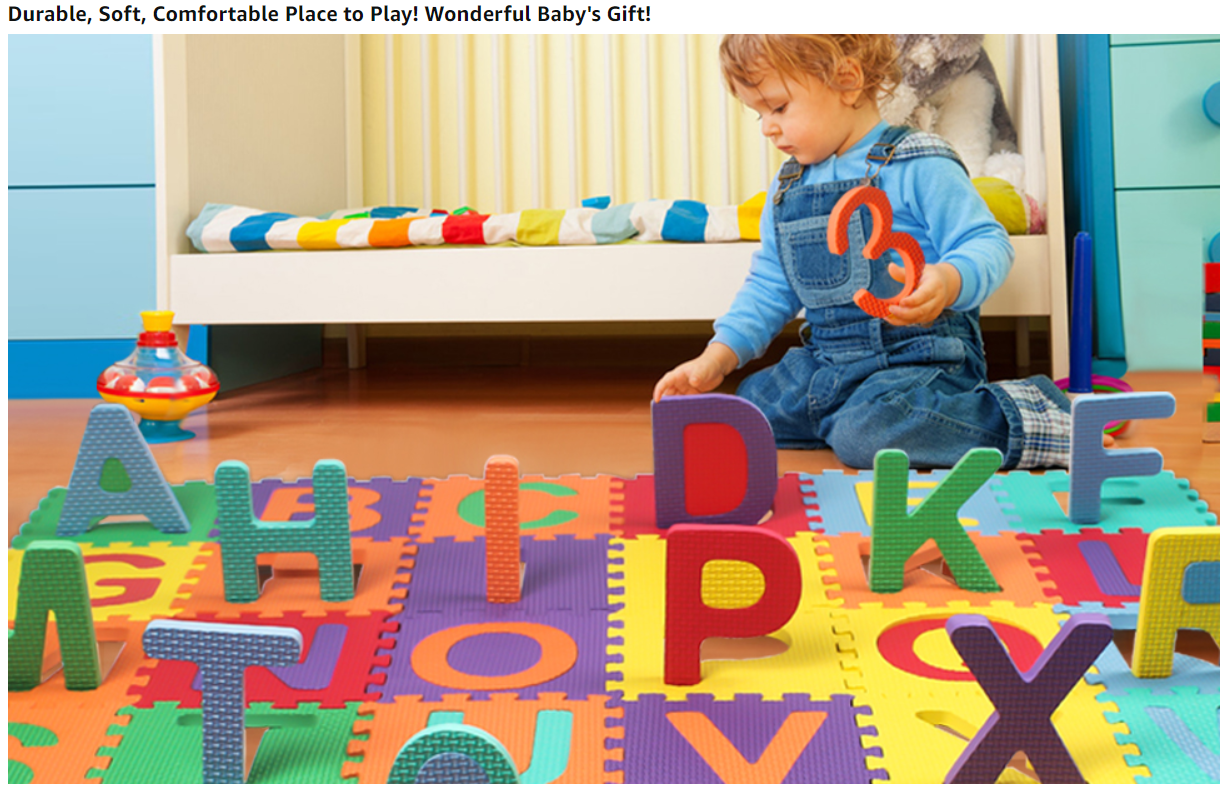 Interlocking puzzle Playmat Tiles

Each mat can be mixed and matched to evolve with your needs or for interactive playtime.
Large, cushioned, and colorful puzzle pieces are very soft; not only to protect your children but also to protect against damage to floors.
The puzzle pieces can even be used to build interesting shapes and figures! Another great feature is that each letter can be removed from the mat for interactive learning.

A to Z alphabet and 0 to 9 Number

Includes all the letters in the English alphabet (from A to Z) as well as numbers 0 to 9!
Your little learner will be able to combine puzzle pieces to spell words or numbers and take part in the learning process!
Interchangeable pieces, removable, and vivid colors allows your children to explore and engage in an amusing and educational playtime.

Small Play Set & Large Play Area

Come with 36 play tiles (5.9"* 5.9" each) to give you plenty of play space. They're easy to clean and stack easily when not in use. Perfect for your kids aged 3+.